6 Best Propane Water Heater For Off-Grid Cabin – A Review & Buying Guide
Are you looking for the best propane water heater for an off-grid cabin? I have got you covered, so keep reading. 
I have researched the whole water heater market and found out that Gasland BE158 is the most appropriate choice for your off-grid cabin water heating needs.
Off-grid living, whether it's permanent or vocational, can be a refreshing experience. You can finally leave behind all the chaos of city life and enjoy the wilderness. And to make living in the cabin more comfortable, a water heater is the best choice (especially propane powered). It doesn't require a lot of electric power (some none at all) and is environment friendly.
REVIEWS: Top propane water heaters for an off-grid cabin
1. Eccotemp i12-LP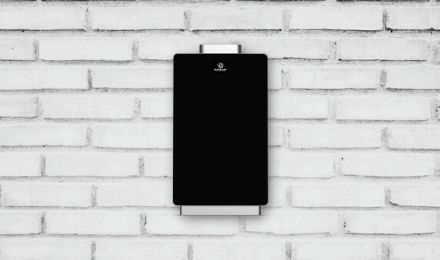 Max flow: Upto 4 GPM
Fuel: Liquid Propane
Input: 80000 BTU
Electric: 120volt outlet
Eccotemp is a stylish and mid-power tankless water heater. The propane-powered model boasts a sleek and modern design with a tempered glass front panel. It's equipped with a neat LCD display and touch control.
Speaking of hot water flow rate, the unit can deliver upto 4 GPM hot water in warmer climates at a 38°F temperature rise which should be sufficient for a family of 3-4. The output drops to 1.5 GPM in cold climates so if you live in the Southern region then you will only be able to use a shower at a time.
Eccotemp i12 is ideal for off-grid cabins as the unit consumes very low electricity at just 2 amp when operating. The maximum heat generation of this unit is capped at 80,000 BTUs per hour.
It doesn't work well enough at a high altitude above 2000 ft. And finally, the tankless water heater comes with upto a 2-year warranty.
2. Rinnai V65iP tankless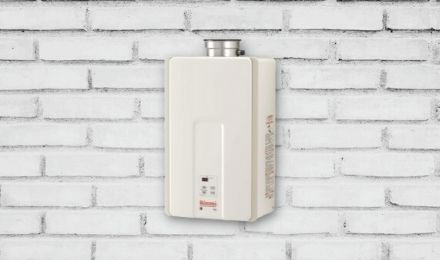 Max Flow: 6.5 GPM
Fuel: Liquid Propane
Power: 150,000 BTU
Electric: 120-volt outlet
The V65iP is a modern indoor tankless water heater from Rinnai that delivers a consistent stream of hot water. It has 150k BTU of heat generation capacity at upto 6.5 GPM hot water flow rate. In the colder regions where groundwater temperature goes below 37°F, you can expect upto 2.9 GPM flow rate. It's ideal for a family of 4-6 people living off-grid.
The tankless unit comes equipped with smart scale detection technology that alerts you when there's excessive scale build-up and time for flushing. (Here's the water heater flushing guide)
Rinnai V65iP is an energy-efficient unit with a 0.82 energy factor. It's also eco-friendly and has ultra-low NOx output. The unit is exclusively CSA certified and offers upto 10 years of warranty. If we go by the EnergyGuide estimates, the unit has an average annual energy cost of roughly $482.
3. Rheem Performance+ outdoor tankless for a large family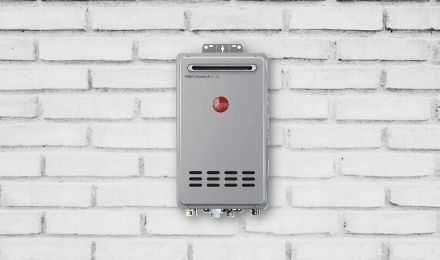 Max Flow: 70 GPM
Fuel: Liquid Propane
Power: 160,000 BTU
Electric: 120-volt outlet
If you have a large family that needs to accommodate hot water in the off-grid cabin then you can consider Rheem performance plus a series tankless water heater. The on-demand water heater can shell out upto 7 GPM flow of hot water in warmer regions whilst upto 3.5 GPM in freezing cold temperatures.
It's an outdoor unit that can be installed outside of your cabin and doesn't require any special venting. However, it will consume electricity all the time to protect itself from freezing. If you want a tankless water heater that only consumes electricity when hot water is needed then stick to indoor water heaters only.
With that set aside, the Rheem is a CSA-approved unit with low NOx output and is environmentally friendly. It comes with a remote digital thermostat so you can adjust the temperature from the inside of the cabin. For more outdoor tankless water heaters click here.
4. Rheem Performance tank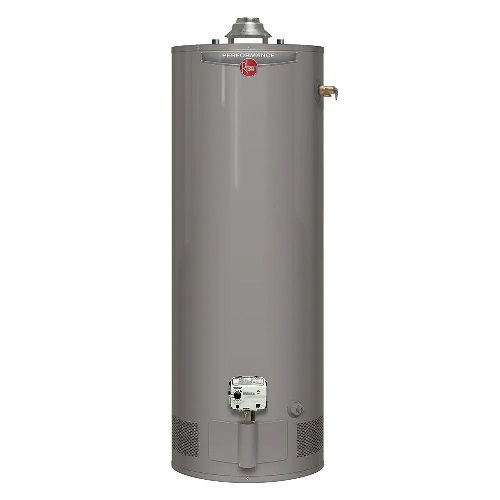 Capacity: 40 Gallons
Fuel: Liquid Propane
Power: 32,000 BTU
If you prefer a tank water heater for off-grid living, a heater that doesn't require any electricity then this Rheem 40-gallon water heater is best for you.
The propane-powered tall boy water heater can output upto 69 gallons on the first hour of operation and then 40 gallons every next hour. If you are a family of two to four people living in the wilderness then this unit is best for you. It doesn't even require any maintenance of the burner. The only maintenance you will ever be doing is of flushing the tank annually.
It's not a regular tank but rather an efficient and modern unit that also comes with vacation mode. So if you are living off-grid on vacation, then the feature will be handy for you.
Rheem performance tank works even at a height of upto 8400 ft from sea level. It has a leak detection feature that alerts you of any leakage.
However, the energy efficiency of tank water heaters is not as good as tankless. This model has a 0.61 energy efficiency factor which is good for a tank but overall in water heating solutions not as good as tankless.
5. Gasland BE158 portable tankless – Battery ignition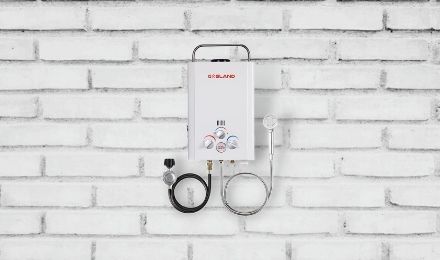 Max flow: 1.58 GPM
Fuel: Liquid Propane
Power: 41,000 BTU
The Gasland BE158 is a portable tankless water heater that's ideal for tiny off-grid cabins. It features a highly efficient burner that consumes less fuel and makes less noise whilst providing maximum heat.
It comes with a handle that makes it easy and quick to install. Gasland is an outdoor unit so it comes with anti-freezing protection and also requires no special venting.
Speaking of hot water output, the model can pump out hot water at up to a 1.58 GPM rate. It operates even at a low water pressure of just 2.5 PSI and is equipped with overheating protection that prevents scalding. The unit is very affordable and features a digital display and temperature control knob.
6. Marey GA10LP Power tankless – No electricity needed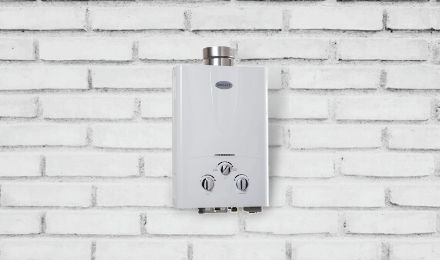 Flow: 3.1 GPM
Fuel: Liquid Propane
Power: 80,000 BTU
Electric: None required
The last one in our list of the best propane water heater for off-grid cabins is the Marey GA10LP. It's a rustproof tankless water heater that operates on propane and can deliver upto 3.1 GPM of hot water. It's an indoor unit and doesn't work in the freezing southern Region.
What makes this tankless unit special for off-grid cabins is the fact that this water heater does not require any electricity to operate and even works on low water pressure which is the situation in most off-grid places.
It's easily installable for DIY enthusiasts and the installation manual is provided by the manufacturer. This water heater is upto 60% more energy saving compared to a 40-gallon tank water heater. If we go by the EnergyGuide estimates, the tankless water heater costs roughly $542 in operation annually.
BUYING GUIDE: Propane water heater for an off-grid cabin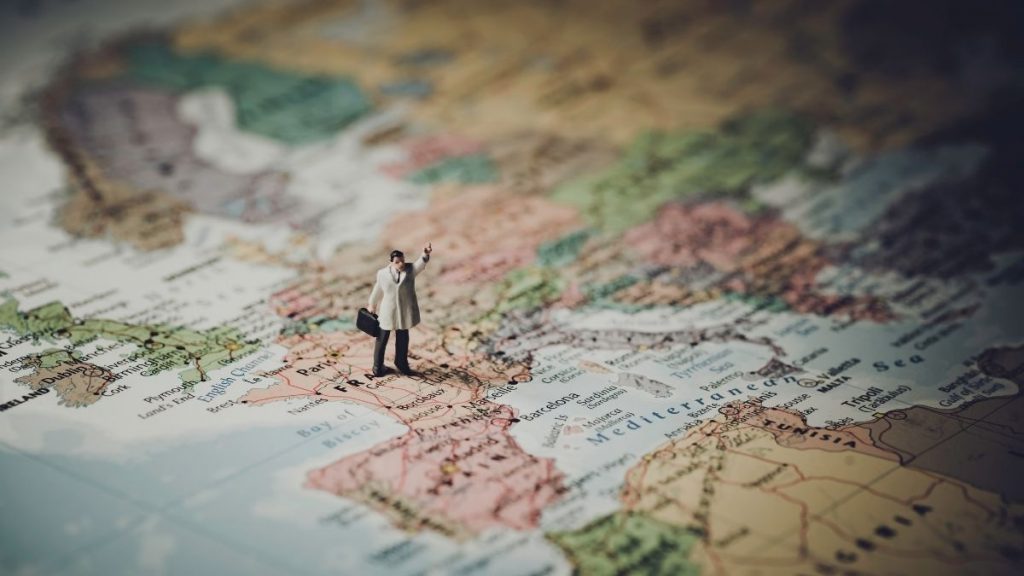 Water heater requirements for an off-grid cabin can be slightly different than that of a typical home with all municipal services. For instance, most cabins either have no electricity or a minimal supply of it. The water pressure is usually also lower. So regular water heaters can not operate in such conditions.
All of the models mentioned above are suitable for your wilderness living. Apart from that, this guide below should help you with understanding what to look for when shopping for a water heater.
Check out the affordable non-condensing tankless water heaters.
Tank or Tankless
Conventional tank water heaters have been around for a long time now and have gone through intense improvements. These are well-insulated water tanks that either boast a heating element or a burner to heat the water.
It burns energy to keep the water hot at a set temperature 24/7. Tank water heaters come in sizes like 30/40/50/60/100 gallons and are bulkier and large.
Tankless water heater only heats water when needed. When a hot water tap is opened, the water flows to the activation switch which activates the burner and heats the water. Due to this feature of only heating water when needed, the tankless units are also called on-demand water heaters. These are very small in size and compact.
Regardless of extensive improvement, tank water heaters are still no more efficient than 0.62 factor and these are ideal if you need a lot of hot water in a short period of time.
Tankless water heaters are more efficient and at least 0.82 factor. But these are usually more expensive than tank models.
Temperature rise
It is an important feature but applies only to tankless water heaters. Temperature rise is how much you want to raise the temperature of your groundwater.
Say, for example, your cabin is in the northern region with a water temperature of 57°F and you want hot water to be 105°F for the shower then,
105-57 = 48°F
In this case, the temperature rise is 48°F. That's how temperature rise is calculated.
Size
It is used to determine how much hot water you can use at a time and if that water heater can provide you with that sufficiently. It's not about the physical size of the heater.
Sizing here is different for both tank and tankless. The term with tank water heaters is first-hour rating while with tankless it's a gallon per minute.
First-hour rating FHR
It is used to size tank water heaters. The first-hour rating is how much water a tank water heater can heat in an hour. You will want to size a tank water heater based on how many people in your family will be taking back-to-back showers.
Gallon per minute GPM
It's a measure used with tankless water heaters. GPM is how much hot water a tankless water heater can heat per minute in gallons. GPM depends on temperature and it drops with an increase in temperature rise. Refer to the tankless water heater sizing guide here for more info.
Extra features
There are a few extra features that you can always look for. For instance, if you live in freezing Alaska then you will want to make sure that your water heater has that anti-freezing protection.