The 7 Best 30 Amp Tankless Water Heater Reviews 2023
Hey, are you looking for the best 30 Amp tankless water heater? I have researched and found the top-performing electric tankless water heaters that require just 30 amp breakers. So whether you need a tankless water heater for your RV or camper, or to replace your old fat electric tank water heater, these are the perfect fit for you.
But before we move any further, I want you to know that tankless water heaters under 30 Amps are mini units. These are single point-of-use water heaters that are used for single sinks. So if you are looking for a tankless water heater for the shower or one that can supply hot water to the whole house then you will have to go with the high amps models that you can find here. 
With that cleared, let's move on to our main section and find out the top 30 Amps tankless water heaters. 
REVIEWS: best 30 Amp tankless water heaters
1. ATMOR Inline 800 – 220 volt 30 Amp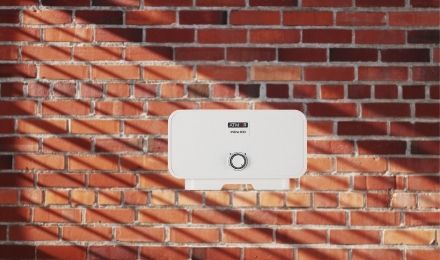 Power: 7kW, 220 volt
Max flow: 1.6 GPM
Breaker req: 30Amp double pole
The first on the list is the Atmor inline 800 series tankless water heater which has a 7kW  heating capacity and operates on 240 volts. It requires a 30 amp double pole breaker for working and can be used under the sink, in your RV, and in campers. 
Atmor offers a decent hot water flow of upto 1.6 GPM in a warm climate which is sufficient for one low-flow shower or to run two sinks simultaneously. If you live in cold climates then expect it to be useful for a single sink only. 
Apart from that, the tankless electric water heater is at least 50% more energy-efficient than tank models. It has its own pressure relief valve inbuilt and a thermostatic temperature control knob to switch temperature between low, medium, and, high. 
2. BLACK+DECKER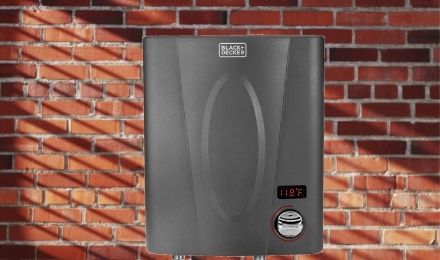 Power: 7kW, 240 volt
Max flow: 1.6 GPM
Breaker req: 30 Amp double-pole
Another option that you can consider in the 7kW segment is from Black+Decker. It is pretty much the same in water heating capacity as the one above. The tankless water heater can shell out upto 1.6 GPM of hot water in warm southern regions enabling support for upto two sinks or a single low-flow shower at a time. If you are from the North region then expect only single sink support. 
The only difference I can see in this model compared to Atmor is of digital display. It comes with a temperature display screen and thermostatic control in one degree Farahnahit at a time. 
The water heater requires 30 amp double pole breaker space in the service panel. Black+Decker is perfect for your office, garage, and other sinks. 
3. Chronomite SR-30L/120
Power: 3.6 kW, 120volt
Max flow: 0.5 GPM
Breaker req: 30Amp single pole
The Chronomite SR-30L series tankless is a rather mini water heater. With 3.6kW of heating capacity, the unit can deliver as much hot water as 0.5 GPM which is enough to run a handwashing sink. It's a single point-of-use mini tankless water heater that's popularly being used as a water preheating unit before feeding to the main water heater on an RV. 
This significantly reduces your waiting time and you can take back-to-back showers without having to wait much for the water to get hot. 
It's one of the fastest electric tankless water heaters that can deliver hot water in under 2 seconds. However, the thing with this model is that it doesn't have any thermostatic temperature control. You get hot water at a fixed temperature rise of 49°F. Chronomite does not work in cold climates. You can find here more on tankless water heaters that work in cold climates.
4. Ecotouch ECO55 – For the office, and Salons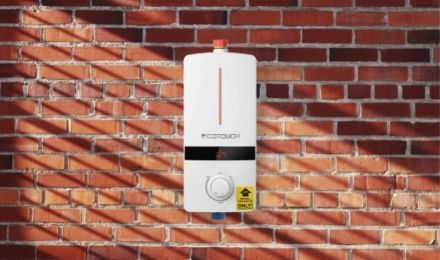 Power: 5.5 kW, 240 volts
Max flow: 1.5 GPM
Breaker req: 30Amp double pole
The Ecotouch ECO55 electric is one of my favorites in this list of best 30 amp tankless water heaters. With its 5.5kW heating capacity, the water heater can render upto 1.5 GPM of hot water for an inlet cold water temperature of 77°F which is pretty much enough to run a low-flow shower. The maximum flow you can expect in cold climates of the north is 0.7 GPM which means you can still use it for sinks.
Ecotouch is highly used for salons, offices, garages, and other sinks that are far away from your main water heater. 
It's a very efficient model with 98% efficiency and that's thanks to the self-modulation technology that ensures safety and savings. The tankless unit comes with multiple layers of protection like dry heat and scalding protection. 
Ecotouch on average costs roughly $187 on the annual energy bills, as per the EnergyGuide label. 
5. Steibel Eltron DHX 8-2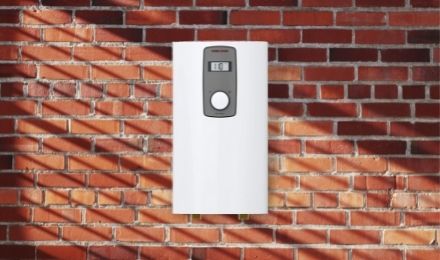 Power: 7.2kW, 240 volts
Max flow: 1.5 GPM @ 32°F rise
Breaker req: 30Amp double pole
If you are looking for something from a trusted brand, something built out of high quality then you can consider Steibel Eltron. The German-made DHX 8-2 is a 7.2 kW electric tankless water heater. It's a mini-unit that can shell out upto 1.5 GPM hot water in warm regions with a 32°F temperature rise. Or you will get a maximum of 0.5 GPM water output in colder regions. All in all DHX 8-2 should ideally be used for sinks only. 
With that said, the single point-of-use unit boasts an attractive yet compact design that should complement your interior. It has a digital display and thermostatic temperature control knob for desired hot water adjustment. It equips proclaimed self-modulation tech that delivers safety and efficiency. Stiebel Eltron DHX 8-2 is a CSA-certified tankless water heater and comes with 2 year of leakage warranty. 
6. Rheem 30 Amp non-thermostatic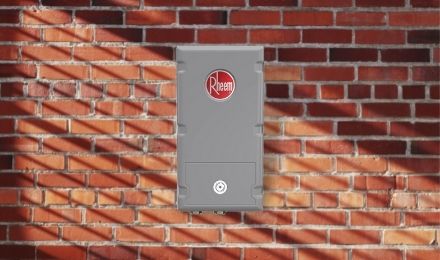 Power: 6.5kW, 240 volts
Max flow: 1 GPM
Breaker req: 30Amp double pole
The Rheem RTEH65 tankless water heater is a non-thermostatic appliance – meaning you can't control hot water temperature but instead it depends on the water flow rate and its temperature. If the water is colder, the output water will be less hot and the other way round. It doesn't even have a display. 
Apart from that, this model can render hot water at upto 1 GPM rate and it's marketed as a handwashing sink appliance. It's best for low-flow fixtures. You can install it in your office, salon, and garage-like places. The unit is also orientation independent and compact which means it can fit almost anywhere. 
Rheem has a heating capacity of upto 6.5 kW and, requires a 30 Amperage double pole breaker to function. You can also install it in your RV as long as it can provide a 240-volt supply. 
7. iHeat S-7 tankless water heater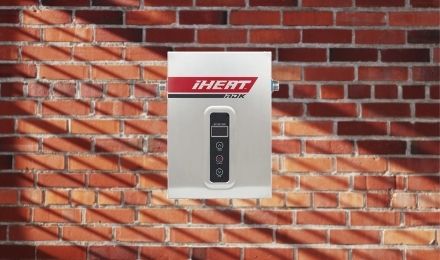 Power: 7kW, 240volt
Max Flow: 1.5 GPM
Breaker req: 30Amp double pole
The last in our list of best 30 Amp tankless water heaters is the iHeat's S series water heater. It is a robust tankless unit with total stainless steel construction that gives it immunity from corrosion and offers durability. The unit features a LED display and temperature control touch buttons. You can manage the hot water temperature in the range of 80 to 140°F.
iHeat s-7 has upto 7kWs of hot water heating capacity. It can render upto 1.5 GPM of hot water in warm climates which is sufficient to supply low-flow showerhead, kitchen sink, and double-hand sinks. In cold climates, you can use it for handwashing only. The unit equips so-called real-time modulation technology that ensures scalding protection and efficiency. This water heater is at least 60% more energy-efficient than the tank model. 
The compact and space-saving design of iHeat can fit constrained places like under the sink, on boats, and RV. It only requires a 30 Amp double pole breaker. 
Over to you!
Finding the best tankless water heater in a 30Amp supply segment is not easy especially since not many models are available and it's also under-served. Hopefully, I put in some time and effort to crawl all the decent tankless units that require only a 30Amp supply. So all you have to do is pick one that suits your needs the best from the above list. If you need help then check out our water heater buying guide.