7 Best 110-Volt Tankless Water Heater [Updated]: A Review & Guide!
Searching for the best 110-volt tankless water heater? I have got you covered so just keep reading.
The best 110v tankless water heater in my opinion are Ecosmart eco 3.5, Rheem RETEX-4, and Steibel Eltron 3-1 all of which are reliable.
110-volt tankless water heaters are small, and compact water heating appliances that can easily fit in cramped spaces, consume less power and provide a limitless stream of hot water for the sink. These mini tankless water heaters are ideal for bathroom sinks, garages, office restrooms, RVs, and boats.
However, these are not ideal for showers or multi-fixture use. I will also not advise this 110/120 volt unit for freezing cold climates as the flow rate drops drastically. If you live in a cold climate then check out these tankless water heaters for freezing temperatures.
With that said, let's jump straight into our reviews. I did some research and found these 7 top-performing and reliable 110-volt tankless water heaters.
REVIEWS: best 110-volt tankless water heaters
Side note: You will find some of these units to be 110 while others are 120 volts. The point to note here is that they both are the same and interoperable. You can run a 110-volt appliance on 120 volts and also the other way around.
1. Ecosmart POU 3.5 – 110v tankless water heater for RV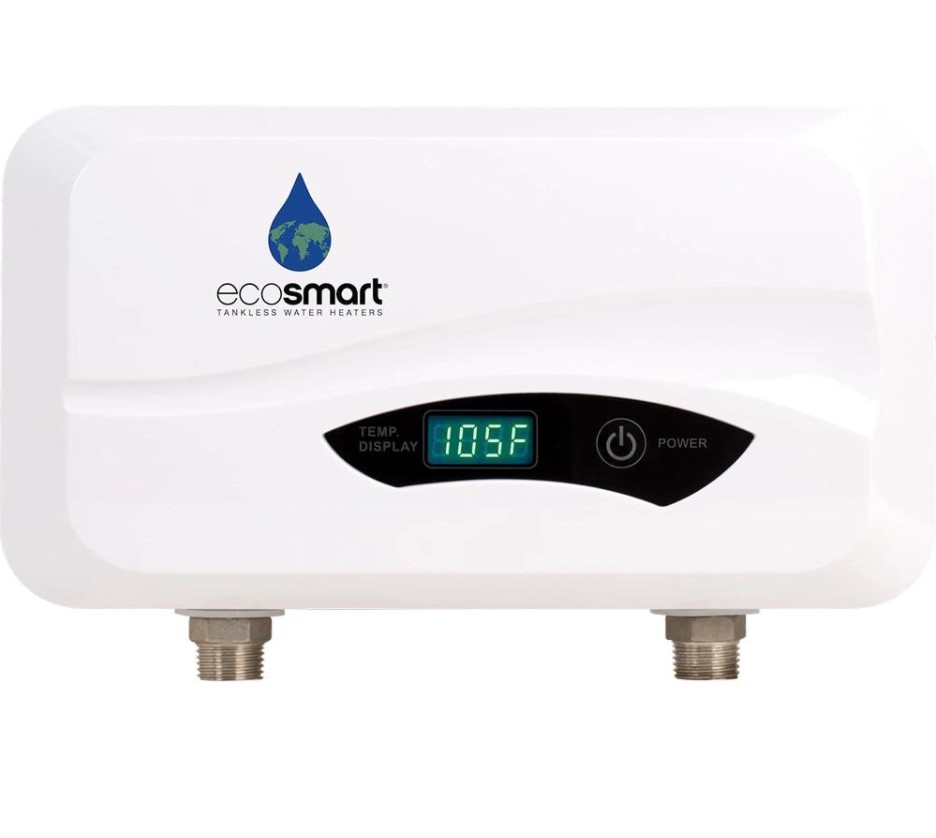 Power: 3.5 kW, 120 volts
Flow rate: 0.68 @ 35°F
Breaker req: 1X30 Amp
Dimension: 7″ X 11″ X 3″
The first on the list is the popular Ecosmart POU 3.5. The Eco 3500 watts model is heavily used in bars, offices, RVs, and boats. It delivers a flow rate of 0.68 GPM in warm climates of Florida which is sufficient for hand sinks. I would not advise this tankless water heater for the shower or even the kitchen sink as those have high flow rates. [Read: top tankless water heaters for RV here]
Ecosmart is equipped with self-modulation technology that saves energy and protects water from being scalding hot. Its stainless steel heating element is durable and also easy to replace for DIYers should the need arise.
The model requires a 110/120 volt supply with a 30 amp breaker. Ecosmart 3.5 is not a plug-in model and needs to be hardwired.
It has a very compact design with 7″ X 11″ X 3″ dimensions that can easily fit under the sink.
2. Chronomite SR-30L
Power: 3600 watts, 120 volts
Flow rate: 0.5 GPM @ 40°F rise
Breaker req: 30 Amp
Dimension: 9.6″ X2.7″ X6.2″
The next up in the lineup is the Chronomite SR 30L which is probably the best-rated tankless water heater in the 110-volt segment. It has a compact metal design that's easy to fit under the sink.
The 3600-watt water heater renders an instahot water heater at upto 0.5 GPM flow rate which is more than enough for hand washing. People also use it on RVs to preheat the water before feeding it to their main water heater. It has an impressive fast delivery time of just 2 seconds.
Chronomite requires to be hardwired and will take a 30 amp breaker. The mini tankless unit has no thermostat for temperature control nor any temperature display. It's a simple appliance that takes your water and raises its temperature to upto 40°F.
3. Stiebel Eltron Mini 3-1
Power: 3kW, 120volt
Flow rate: 0.5 GPM
Breaker req: 25Amp
Dimension: 6.5″ X3. 7″ X7. 5″
If you are looking for something sleek, compact, and small that can easily hide under your lavatory sink then the Mini 3-1 from Stiebel Eltron is the perfect option for you.
The 120 volts and 3000 wattages powered electric tankless water heater serves upto 0.5 GPM 110 instant hot water heater for a soothing hand washing experience. You can even install it on your RV or boat to preheat water for your main water heater if you have at least 25 amp service on board.
It is one of the easiest-to-install units that come with pigtail wire pre-built for hardwire connection. If you have basic knowledge of the service panels then the water heater shouldn't be an issue for you to install.
However, what I didn't like about this model is the absence of a digital display and temperature control. The temperature here is preset and you will get hot water in the range of 100-110°F.
4. Rheem RETEX-04
Power: 3.5kW, 120volt
Flow rate: 0.6 GPM
Breaker req: 30 Amp
Dimension: 12″ X4″ X8″
If you need 110-volt tankless water that has a digital display then take a close look at the Rheem RETEX-04. This mini model comes with a digital display that shows you the hot water temperature. It doesn't have a thermostat for temperature control though.
That said, the appliance dimensions are 12x4x8 inches which should easily be slidable under your handwashing sink. The unit equips a copper immersion heating element that is durable and easily serviceable. Rheem 120 volt tankless water heater is upto 99.8% energy efficient which means it will have a very minimal electricity consumption footprint.
The professional series water heater needs to be hardwired and it's not a plug-and-play type unit as it needs 30 amp service.
5. Eemax EEM12004
Power: 4kW, 120 volt
Flow rate: 0.9 GPM @ 39°F rise
Breaker req: 30Amp
Dimensions: 11″ X3″ X6″
Another 110-volt electric tankless water heater that you can consider is the EEM12004 from Eemax. Let me tell you the highlight of this unit right out of the bat. The tankless model has a digital temperature display and thermostatic temperature control. Meaning you can adjust the temperature of the hot water as you desire.
It has 4000watts of power that delivers instant heat hot water heater. The unit is equipped with self-modulation technology that ensures high energy efficiency whilst making sure the water doesn't get scalding hot.
Eemax has 11x3x6 inches of dimensions and a complete metal build. It's not very attractive for sight but works great. And it comes with 5 years of leakage and 1 year part warranty.
6. Vinmax 2021 hot mini – 110v plug-in tankless water heater
Power: 1.5kW, 110volt
Flow rate: 2.1 gallons per hour
Breaker req: Outlet Pluggable
Dimensions: 13.2″ X8. 2″ X9. 4″
This is not exactly a tankless water heater. The Vinmax 2021 is instead a mini-tank electric water heater that can deliver upto 2.1 gallons of hot water per hour for your needs whether it is handwashing or doing dishes or food preparation in the kitchen sink. You can also use this mini-tank water heater to tackle the problem of cold water sandwiches caused by tankless water heaters.
The unit works just fine with low water pressure as well. It has a digital thermostatic control knob which can be adjusted in the range of 130°F to 167°F.
If you are looking for something that doesn't require hardwiring and can be easily plugged into your outlet then Vinmax is the one. The 1500-watt unit runs on a 110-volt supply and works with standard 15 amp service which our household outlet already delivers.
7. Atmor Inline 800
Power: 3.5kW, 120volt
Flow rate: 0.5 GPM
Breaker req: 30 Amp single pole
Dimensions: 11.9″ X4.1″ X7.1″
The last model to make up this list of the best 110-volt tankless water heater is from Atmor electrics. The Inline 800 model runs on 120/110 voltage and has 3500 wattages of power.
It can deliver hot water in the range of upto 0.5 GPM which should only be used for lavatory sinks. The water heating appliance will not work on inlet water temperatures below 57°F. And why this? None of the water heaters mentioned in this review are incompatible at this temperature range. 110-volt models are for warmer regions.
With that said, the unit features digital thermostatic temperature control which can be adjusted to low, medium, and high. However, there's no digital display to show the water temperature. The unit is said to be at least 50% more energy-saving compared to tank models.
Buying guide: 110-volt tankless water heater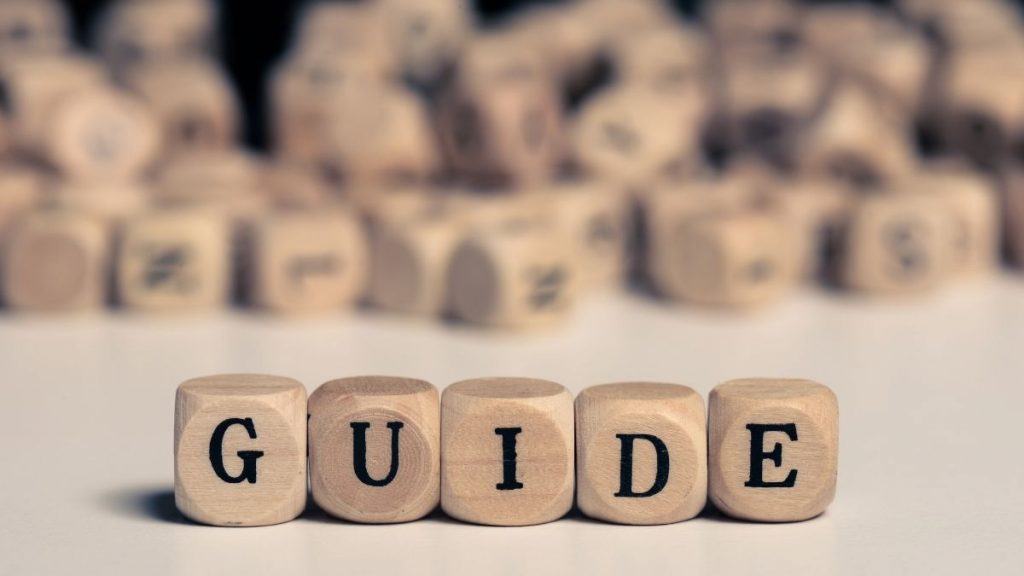 While we have listed all the top 110-volt tankless water heaters that are available right now, I think this guide will help you pick the appropriate water heater for your specific needs.
So let's find out the things that you should be looking for
Flow rate
All 110-volt tankless water heaters are the single point of use and are specifically for hand-wash lavatory sinks only. This is obviously because it has low wattage power.
So what is your requirement? What fixture are you going to use and what's its flow rate? Like if you need a water heater for the handwashing sink then a 0.5 GPM flow rate water heater is more than sufficient. But if you need a tankless water heater for the shower or kitchen sink then 110 volts is the wrong choice for you. Refer to the tankless water heater sizing guide here for more details.
Temperature control
Most 110-volt tankless water heater comes with a preset temperature. There's no thermostat for temperature adjustments. It's upto you if you need temperature control which some of the models offer. The benefit of temperature control is that you can adjust the temperature to lower in the summer seasons. [ Fix issues with your tankless water heater running cold. ]
Popular questions
What is a 110-volt tankless water heater? 
A 110-volt tankless water heater is an electric tankless water heater that can operate on 110 or 120 voltage. These are low-power water heaters ideal for handwashing. Such models are also popular for RVs and, boats where 220 volts is not serviceable. 
Do tankless water heaters come in 110?
Yes, tankless water heaters do come in 110 volts that are not just useable at home but also on your RV, campers, and boats. However, these units are less powerful and useful for a single point of use of handwashing. No kitchen use or shower either. 
What is the downside of an electric tankless water heater?
There aren't many downsides to electric tankless except for the u003ca href=u0022https://en.wikipedia.org/wiki/Hardwireu0022 target=u0022_blanku0022 rel=u0022noreferrer noopeneru0022u003ehardwiring u003c/au003ethat you need to do with it. Sometimes you also need to upgrade your service panel which can be expensive. 
Can I run a tankless water heater on a 100 amp service?
Yes, a lot of tankless water heaters, especially single point-of-use models can be used on 100 amp service. Check out this best u003ca href=u0022https://homewatertech.com/best-point-of-use-tankless-water-heater/u0022u003esingle-point-of-use tankless water heateru003c/au003e for instance. 
Your call
When it comes to 110-volt tankless water heaters, there's not much to look for. The units are simple in design, don't come with many complicated features, and have a specific use like hand washing. But if you are looking for a whole-house electric tankless water heater then you should look here.